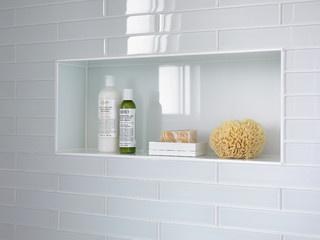 "The challenge with this shower was that it was so narrow — only 3 feet wide," designer Shelly Lindstrom says. To address this, she placed the shower fixtures on the adjacent wall to provide elbow room. "When you look in the shower, the niche wall is the direct line of vision, which is why we chose to put the niches on that wall — it provides a nice focal point," she says.
Niche tips: "Typical large bottles of shampoo with pumps start around 12 inches high; we added a few more inches to account for taller bottles and room to reach your hand over the pump," Lindstrom says.
"Avoid exterior walls when possible, or make the wall extra deep so that you can get appropriate insulation behind it," she adds. "In general, if there is room to make the wall extra deep, that helps, but more often than not mechanicals get in the way, and it's hard to get the niches placed where you want them."
Lindstrom concurs with Kooby and highly recommends using a solid surface like one piece of Carrara marble on the bottom of the niche to avoid having to clean grout lines. She also advises sloping the bottom slightly to allow for water runoff.