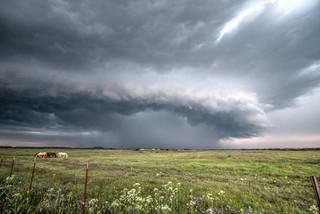 Create a Family Emergency Plan
Put together disaster kits for your home and cars. Collect items you would need at home if you lost power or water and had to shelter in place. This can include flashlights and batteries, nonperishable food, bottled water, a battery-operated radio and medical supplies. Also assemble backpacks with things to take with you if you have to evacuate: first aid kit, medications, diapers, emergency contact list, food items, pet supplies, emergency blanket, cash, maps, chargers, extra keys.
Plan and practice for evacuation. Make sure everyone knows how to get out of the house quickly. Check that windows can be opened and are clear below if they need to be used as an exit. Talk with your kids about emergency signals they might hear and what they should grab or do if they have to leave immediately, have five minutes to get out or can take 15 minutes or more. Decide on meeting spots outside the house, in your neighborhood and outside the neighborhood.
Agree on what you'll do if you're away from home. Set up a family communication plan that includes a contact outside the area whom everyone could call or text in an emergency. In case electronics fail, write out lists of emergency and family numbers for everyone to keep with them. Know the emergency plan and contact info for each family member's school or workplace. Discuss how and where you would meet up.
Set up safe spaces at home. If you may need to shelter at home during a tornado, winter storm or other disaster, make sure everyone knows the safe places and where to find emergency and first aid kits. Have materials on hand for boarding up windows and know the locations of utility shutoffs. Keep your basement or shelter stocked with supplies.