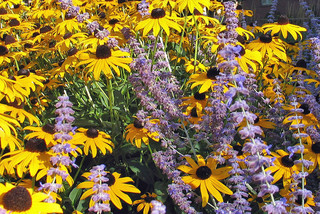 Spotted Beebalm
(
Monarda punctata
)
Native to e
astern North America, from Vermont to Florida and west to Minnesota and New Mexico
Spotted beebalm is a resilient, low-maintenance and long-blooming perennial that attracts important pollinators, including bees and wasps, as well as other beneficial insects. Colorful bracts extend the length of time the plant appears to be in bloom.
While spotted beebalm is considered to be a short-lived plant, lasting only about three years, it is a vigorous reseeder. It's also deer-resistant.
Where it will grow: Hardy to minus 35 degrees Fahrenheit, or minus 37.2 degrees Celsius (zones 3 to 8)
Water requirement: Moderate
Light requirement: Full sun to partial sun
Mature size: 1 foot to 3 feet tall and wide
When to plant: Sow seeds in fall or early spring; plant bare-root plants or nursery containers in spring.